The special experience in Subic
Last March, I studied at iYES Language School and did an internship at Harbor Point, which is a big shopping mall in Subic, for a week.
I knew about iYES Language School from Tiger Mov, a company that helps students and working people do internships in developing nations. I became interested in working in foreign countries because last January, my best friend went to India and did an internship through the program of Tiger Mov. She told me about the special experience, and I thought that I would like to have a wonderful experience in a foreign country, too! Then, I signed up for Tiger Mov, began to search many internship programs and finally found iYES Language School in Subic.
I have three main reasons for having decided to go to Subic. First, Subic was originally the US military base and is a very safe region. Actually, it was possible for me to go to a café near my hotel at night alone. Second, Subic is like the US. As I mentioned above, Subic was a US military base, so the environment is very similar to the US. Therefore, I could enjoy both American atmosphere in Subic and Asian one in Olongapo, which is very near Subic. Third, prices in the Philippines is cheap. I had to pay the cost for this short studying abroad by my own, so this was the very important point for me. In this way, I decided to go to Subic, study at iYES Language school and do an internship.
Then, I contacted Mr. Nakazawa, the CEO of iYES Language School. The first time I had an online interview with him, I felt nervous, but immediately, I found him very kind and open-minded. I could tell he has a great personality just by talking with him through the Internet. Also, he sent me many materials written about iYES Language School and Subic, and answered my questions nicely, so all my worries were gone. Then, I looked forward to going to Subic and studying English there more and more!
Actually, my stay at Subic was really great. I took English lessons for two hours every morning and did an internship for four hours every afternoon except Sunday.
The one-to-one English lessons were very different from English classes at Japanese school. In class, I had a lot of opportunity to speak English. I had to be active. At first, as I felt a little nervous and uneasy, I hesitated to express my opinions; however, all teachers were kind and friendly, so I was able to enjoy talking with them. Though it's only two-hour lessons for a week, I feel that my English and communication skills dramatically improved.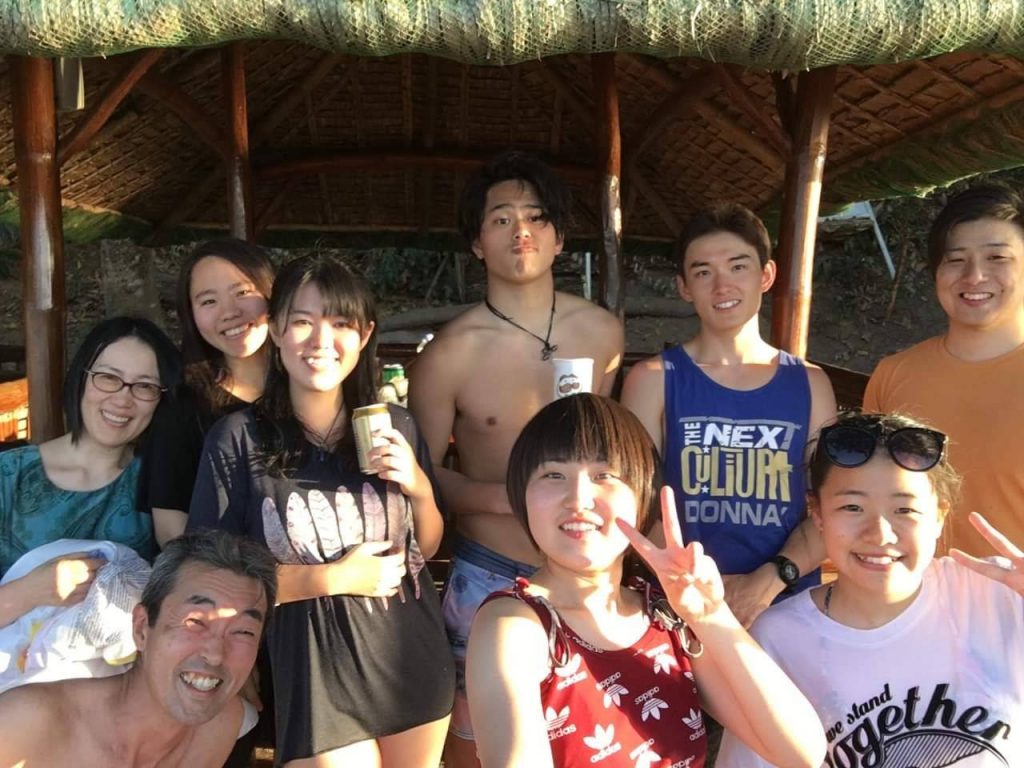 The internship at Harbor Point was a little hard for me. I experienced so many things. For example, I worked as a concierge at the information center. I did my best to remember where each shop is and guided customers. Also, I worked with a security guard and played an important role to oversee all shops at Harbor point; since a lot of store clerks gave me documents which were necessary to run the shops, I signed my name on the documents and classified them. I also answered phone calls from customers and clerks, of course in English. This phone support job was more difficult than other ones in that when talking with a person on the telephone, I cannot see the person's face, but precisely because of this reason, I felt a big confidence when I could tell the person whom I was talking with what I wanted to tell exactly. Of course, working at a shopping center by using English was not easy, but thanks to the kindness of co-workers, it was possible for me to have a great time with them. They always cared about me and came to talk to me. They bought me lunch, and we enjoyed talking while eating. They told me about the Philippines when there was no work. The number of what they had done for me was too many to count, and I really appreciate all of their kindness. Through this internship, not only could I feel much more confident in my English skill, but I could again realize how much I depend on other people.
Although I wrote about my study in Subic above, free time was also really great owing to friends I met at iYES Language School. We ate lunch and dinner together every day. Because talking with them was very enjoyable, I could not wait lunch and dinner time. Also, we went to Olongapo and ate Balut, a boiled duck egg on the verge of hatching. Though the appearance was too shocking, the taste was not so bad. Moreover, we went bowling and were very surprised at the system all hand-powered. Furthermore, on Sunday, Mr. Nakazawa kindly drove us to the sea beach, and we spent wonderful time in swimming. Sea in the Philippines was beautiful and transparent, so it was possible for us to see fish in the sea! Additionally, I cannot forget about special spicy noodles which my friends made me try to eat. I had to drink a lot of milk because of the noodles, and the next day, I had a stomach ache, which has become a good memory now.
As I told through this report, I had a really fantastic time with precious friends in Subic! I will never forget about this special experience and important friends there. Also, I promise to return to Subic and take part in another program at iYES Language School in the future years. Thank you for all time I spent in Subic!