[two_third]
CEOメッセージ
次の時代を担う日本の若い世代やこれから世界に羽ばたこうとしている方々の"踏み出す第一歩"のお手伝いをしたい。
"iYES"を経験して頂いた方がいずれアジアで、世界で活躍され、いつの日か次の世代に繋がっていく…。そんなシーンに触れたい思いから、仲間とともに開校致しました。
英語というコミュニケーションのツールがあれば、自然と視野が広がり、たとえ日本にいたとしても世界が見えてきます。日本語の中だけで日本や世界を見るよりも、より俯瞰で捉えられるのではないでしょうか。
私は国内大手電機・海外半導体メーカー、およびフィリピンで工場マネジメントを経験しています。その経験から、より実践的な英語を意識し、英会話学校を超えたその先
– 実際に国際人になるための経験を積む –
ことができるように、我々の趣旨に賛同して頂いた地場企業・地元政府の協力の下、インターンシップ・ボランティア・ホームステイなどをご用意しています。
この地、スービック(Subic Bay Freeport Zone)はフィリピン人の中でも一度は行ってみたい場所に挙がるほど最も安全で且つ快適なところです。おそらく皆さんも、アメリカのリゾート地にいる錯覚に陥るかもしれません。
またホテル内にお部屋とレッスンルームをご用意していますので、集中して語学力が向上できる環境をお作りしています。iYESで留学生活が充実したものになることを確信しています。
スタッフ・先生一同、皆様をお待ちしています。
2014年4月 スービックにて
中沢 宏行(Hiro Nakazawa)

[/two_third][one_third_last]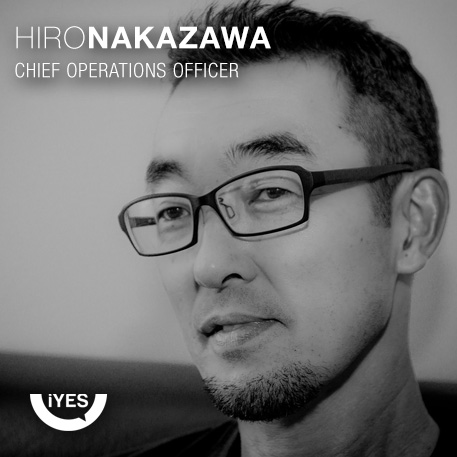 プロフィール
iYES Corporation / Chief Executive Officer

1962年

新潟生まれ

1985年

国立電気通信大学応用電子工学科卒業後、(株)東芝入社、一環して半導体事業に携わる。製造技術、生産技術、生産工場、事業企画等を経験。この間、アメリカシリコンバレーに1年半駐在。英語は入社してから少しずつ勉強し、コロラドで語学留学も。

2005年

台湾系半導体製造最大手TSMC日本法人

2006年

豪州Bond大学MBA取得

2007年

ドイツ系半導体メモリ会社キマンダ日本法人

2009年

ドイツ本社倒産により、組織解散。半年間、ハローワークに通いつつ、就職活動。OA機器関連企業エステー産業入社、すぐにフィリピン現地法人CRESCへ派遣され、製造を担当

2012年

同社、取締役工場長

2014年

iYES Corporation、設立に参画、COO

2016年

iYES Corporation、CEO 就任


[/one_third_last] [one_third]
[/one_third] [two_third_last]

[/two_third_last]

 

[two_third]
PEÑAFRANCIA V. MAJUCA
For about three decades of career, personal and social development I have gained various experiences and people support. This has also created a passion for continuous search for new challenges and opportunities and learning. From costing to general accounting, supervision and management contribution to manufacturing, distribution and service organizations. With these exposures, reaching out to work with people and dedication to share and contribute value added services is my commitment.
Joining a team built out of trust and confidence is a providence.
As iYES Chief Finance Officer, my role is to uphold the mission/vision of iYES Corporation, our Language School, maximize its resources and opportunities.
With the main players, my mentors, Mr. Shinobu and Mr. Hiro, in high spirits we will reach out with people with boundless advocacy on continuous education.
Join us! Take the extra mile! Go beyond the limits of communication.
Welcome aboard!
[/two_third] [one_third_last]

[/one_third_last] [one_third]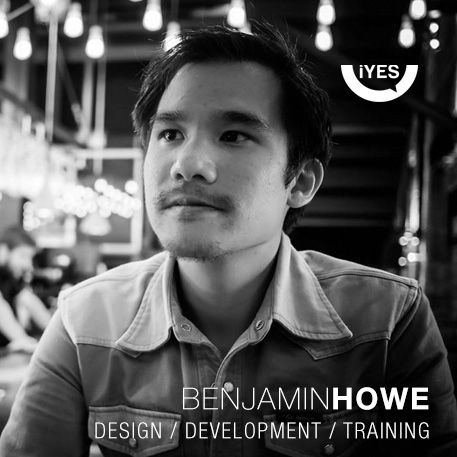 [blockquote]I believe the teachers are some of the most skilled, passionate and friendly people I have met[/blockquote] [/one_third][two_third_last]
BENJAMIN HOWE
That sounds exciting…that's what I said to Shinobu Amatsuji when he first asked me to be involved with the school. Months later, I would realize that exciting is an understatement.
Although I have worked in Japan for the last 9 years as an english teacher, designer and business developer. I have never been involved in anything that has utilized all three of those disciplines…until now. It's demanding but absolutely worthwhile.
Working with a team of talented individuals who are focused on providing the best experience and environment for learning is extremely rewarding. It's wonderful to have the opportunity to plan, develop and design a learning system from the ground up exclusively catering to Japanese students of English.
It was a long process selecting our team of teachers from the many applicants we had but I believe the teachers are some of the most skilled, passionate and friendly people I have met. Each with their own specialized skills in English and an individual teaching style. Working with them has been a joy.
So, to say that working in Philippines with the entire team has been exciting wouldn't come close to describing the experience.
I am looking forward to seeing the students of iYES language school grow with the school and I believe that studying here in this environment with these people will be an experience that is more than just exciting.
It will be life changing.
[/two_third_last]